THE BACK TO THE FUTURE PARADOX AND OTHER MOVIES WITH HOLES SO BIG THEY'LL MAKE THE ONE LEFT IN YOUR HEART BY DAD SEEM SMALL.
By Grant Helton
0 comments
Hollywood is natoriously bad at writing sci-fi and often creates movies with paradoxes and disappearing family members.
PARADOX 1: BACK TO THE FUTURE
The Plot: Teenager Marty McFly gets sent back to 1955 where he runs into his mother and father and prevents their union. Meeting up with younger Doc, Marty hatches a plan to get his parents together before he gets erased from existence.
The Paradox: The ending. So when Marty returns to his timeline to find his parents are now awesome cool, his dad a famous writer and his siblings crazy successful, the life that he lived up until this point should be completely new to him. Also one would imagine that the chances of 'Awesome George' and 'MILF Lorraine' procreating at exactly the same time that they did in the original timeline would be slim to none.
The Verdict: George and Lorraine getting it on at the same time is possible, and Marty's life being led in much the same manner is also possible. However improbable. So we're cool with this. And Back To The Future is one of the greatest films ever made so it gets a pass. Parts Two and Three, however, are far too heavy for us to try and explain in a few short sentences.
PARADOX 2: THE TERMINATOR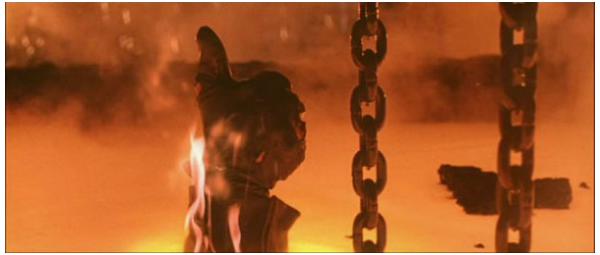 The Plot: John Connor sends his own father, Kyle Reece, back in time to protect his mum, Sarah, from a rather monosyllabic Terminator. In a rather unprofessional moment of lust Kyle puts off his protecting duties to enact a good foot/bad thing combo resulting in the impregnation of Sarah, with John.
The Paradox: The grand poobah of paradoxes. How can Kyle be sent back by the man who will become his father if his father was not there to sire him originally? One answer is, he isn't. John's original father isn't Kyle but some random fella the happy-go-lucky Sarah picked up in Tech Noir while having a boogie and a booze.
Verdict: As long as we're hunky-dory with alternative timelines this one works out just fine. The John Connor of the first timeline is a different John Connor of the next. It also answers why John Connor in Terminator 2 doesn't look like Christian Bale. Now, how's about Skynet originating from the original T-800? Oh look, it's Arnie with a big gun
PARADOX 3: HITLER TRAVELING BACK IN TIME TO ASSASSINATE HITLER
The Plot: Hitler fed up with his reputation as a bad dude uses secret Nazi black magic to travel back in time to assisinate himself. Basically an new take on Encino Man.
The Paradox: If Hitler kills hitler what will happen to current hitler?
Verdict: Who cares. Just watch this video.
P.S. we took most of this content from an awesomely nerdy article that you can find over here.
Share this